We are located in Mill Creek, Washington just south of Everett on 132nd Street SE. We are easily accessible from all across south Snohomish County and conveniently located near Interstate 5. Cedar Cross is an active church that tries to live our United Methodist theme of Open Hearts, Open Minds and Open Doors.
We have a diverse membership of adults, seniors, youth, and children of all ages! We have a strong Sunday school curriculum for children, youth and adults. Our worship services offer many ways to help you deepen your spiritual awareness of God's work in us, in our community and in the world. We are pleased that you are interested in CCUMC.
We hope you will consider worshipping God and serving others with us. If there is any way we can be of service to you or your family in your faith journey, please let us know. There is a place for you here at Cedar Cross United Methodist Church. We look forward to meeting you.
.
From Pastor Jim: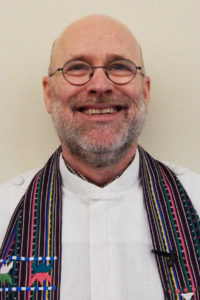 I believe the United Methodist Church offers a distinctive and meaningful face to Christianity.  Cedar Cross is a Progressive Christian Community: We believe that faith is not about belief in doctrine but about a journey in relationship to God through Jesus Christ that we all take together and share in the community of faith. As our denominational motto declares, we believe in having Open Hearts, Open Minds and Open Doors: we share about our lives, our passions, our joys and concerns and in so doing ignite the Holy Spirit amongst us.
We are united in our devotion to Jesus Christ but recognize that we experience Christ differently and have a variety of images of Jesus. We believe diversity is a strength and that when we embrace diversity we embrace God. We take the Bible seriously but not literally. We affirm the presence of God through the power of the Holy Spirit; not a distant and omnipotent God to "believe in" but a present and loving God to open our hearts to; we believe in the primacy of God's love and grace. We believe in spiritual growth and social justice. We stress relationships, believe that all of life is interconnected and we have a responsibility to each other and the creation.
We are a Reconciling Congregation: This means that we welcome Lesbian, Gay, Bi-sexual and Transgender (LGBT) people to fully participate in the life of our Church. More than that, we actively support same-sex marriage and the ordination of LGBT people.
We are blessed at Cedar Cross United Methodist Church with people of all ages. We have over 125 children in an incredible Vacation Bible School each year, we have an active youth program, and younger adults, too. Most of all, Cedar Cross has a good and warm spirit. People love each other here. I think if you join us you will feel this spirit – I sincerely invite you to come.
Yours in Christ,
James Clarke, Pastor
Our Mission
To create a community that nurtures and empowers people to be disciples of Jesus Christ for the transformation of the world.
Our Vision
We are a community deeply grounded in the love of God: enthusiastically welcoming all into the life of our church; earnestly seeking to be disciples of Jesus Christ; empowering each other in our faith journey through study, worship and service; lovingly nurturing the physical and spiritual needs of children; preaching a progressive expression of the message of Jesus Christ; compassionately reaching out in service to those in need; actively engaged in promoting justice for all; and gratefully committed to the responsible stewardship of all of God's creation.
What We Value
INCLUSION
We believe God's love extends to all creation. As a Reconciling Congregation, we welcome and fully include LGBTQ people in the life of the Church.
COMPASSIONATE
We seek first to understand before being understood. More than anything Jesus teaches us to be compassionate rather than judgmental; to be compassionate as God is compassionate.
NURTURING
Children are important to us. Through our Co-op Preschool and Children's/Youth programs, we strive to raise up children who know God's love and become disciples of Jesus Christ.
SOCIAL JUSTICE
We believe in equality and the fair distribution of wealth and healthcare for all. We decry racism, sexism and any other means of oppressing others.
PROGRESSIVE
We encourage open dialogue. We believe in taking the Bible seriously, not literally and encourage people to be curious and ask questions.
SERVANTHOOD
We believe meaning is found in servanthood. We believe everyone is called to be in ministry; we support one another in finding and sharing our gifts.
SPIRITUAL GROWTH/FORMATION
Spiritual growth is foundational. We strive to grow in our relationship to God so that we are able and prepared to show God's love in the world.
INTEGRITY
We believe in living a moral life. We seek to instill character, truthfulness, respect and decency in ourselves and future generations.